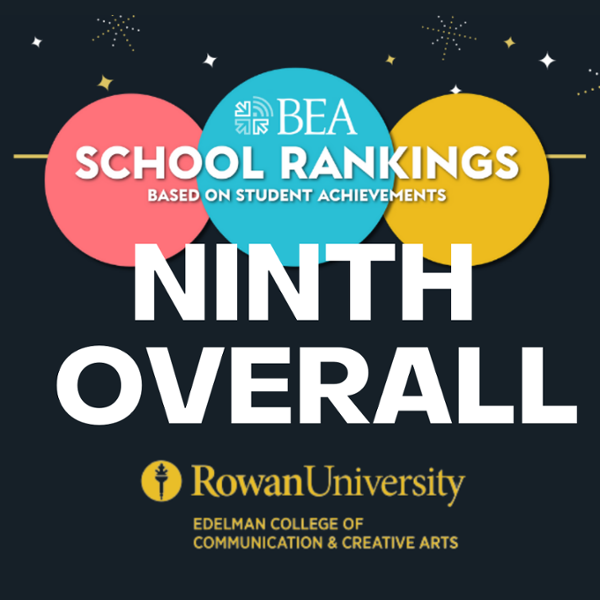 Broadcast Education Association ranks UK 9th internationally for radio, TV and film | rowan today
The Broadcast Education Association, which continuously recognizes the achievements of Rowan University students in radio, television and film at the organization's conference in Las Vegas, released its first school rankings this week, naming Rowan #9 internationally.
In addition to the overall ranking, BEA ranked Rowan RTF programs No. 3 in audio, No. 6 for documentary, No. 9 in film and video, and No. 18 for news programming.
The BEA site noted that in creating the ranking system, its goal was to recognize students' creative achievements based on the results of recent BEA Media Arts Festival competitions. Over the past five years, nearly 6,000 creative student works have been submitted by more than 300 BEA member institutions around the world.
This year, BEA will reward a dozen Rowan students and faculty for a wide range of creative work, including radio broadcasting on WGLS-FM, short films and interactive media during the Media Arts Festival on 24 and 25 April.
In the new grading system, the organization considered the quantity and quality of student work produced.
"The ranking is an assessment of the quality and consistency of creative student work produced at one institution relative to that at other institutions," BEA officials noted on their site. "While the BEA has been evaluating student work for almost 20 years in competition, the rankings are based on the last five years of student achievement."
Rowan Department Chairman Keith Brand Radio, television and cinema in the Ric Edelman College of Communication and Creative Artssaid Rowan's inclusion so high in his first official ranking by the BEA is a testament to the prolific, high-quality work produced by students at the institution.
"The Broadcast Education Association is one of the premier professional organizations for college media programs, and we are proud that our students' work is ranked among many of the nation's best-known media production programs," Brand said.
Edelman CCCA Dean Sanford Tweedie said the ranking, while gratifying, confirms what faculty and students already know.
"Rowan is a leader in this field, and our students are exceptional content creators mentored by an incredible group of faculty," Tweedie said.
The department will welcome its 8and Annual RTF Media Fest, a celebration of animated features, documentaries, short narratives, audiovisual and audio productions, and original student-produced screenplays on 8 and 9 April at Bozorth Hall.