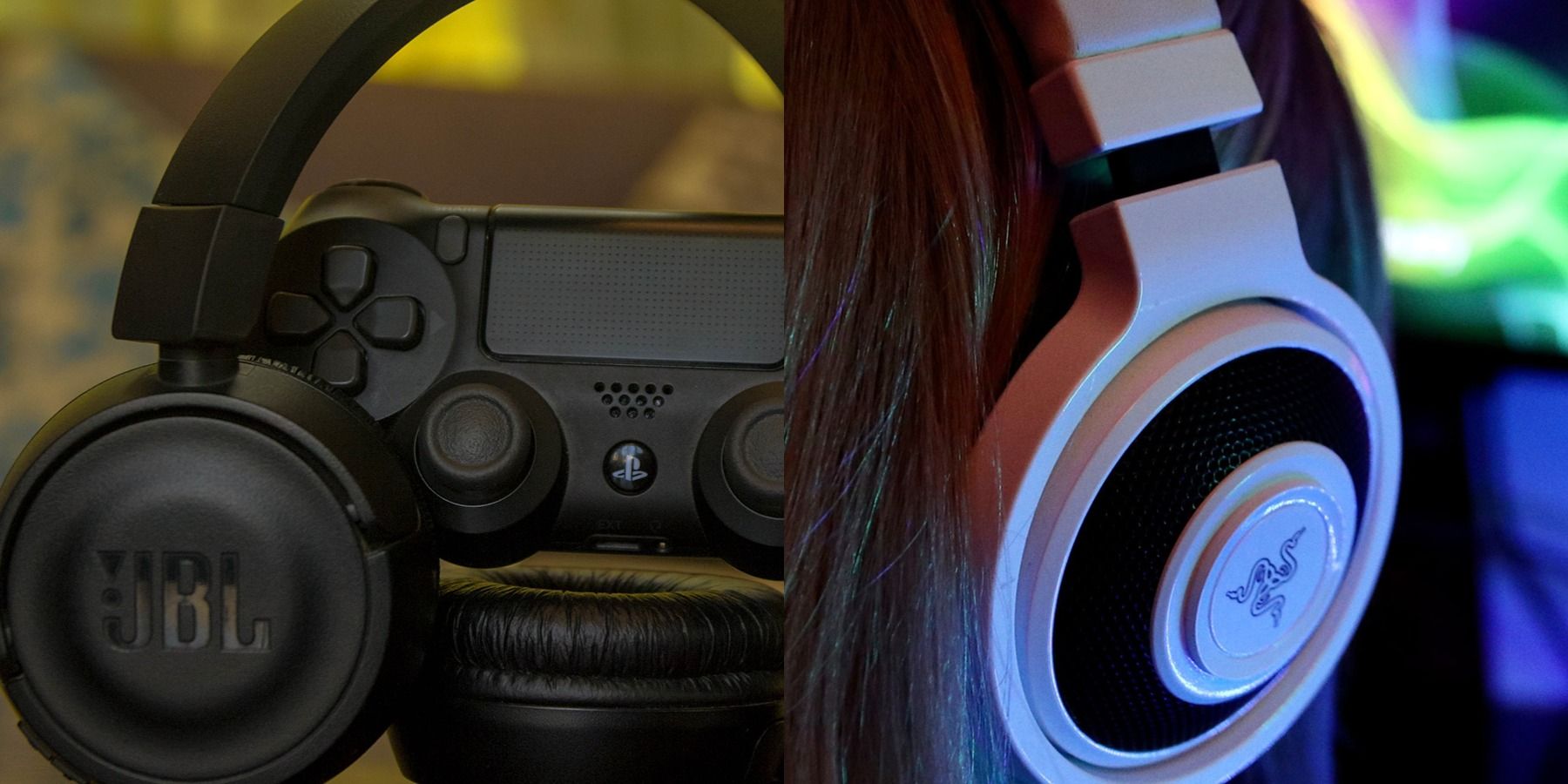 Do I need a gaming headset?
When companies started developing accessories for game consoles and PC games at the dawn of the age of gaming, the technologies were still in development. Peripherals and add-ons that customers could buy were rare, especially when it came to "gaming headsets". Since the focus wasn't on online gaming, there wasn't much need for a headphone/microphone combo device that would allow gamers to easily communicate with each other. Before the advent of online gaming, gamers simply plugged in any standard headset or auxiliary earpiece if they wanted a better sound experience.
RELATED: The Best Gaming Headsets For Under $30
Fast forward to today and there are a slew of specialty headsets and microphones designed for gaming, customized to give gamers an enhanced experience by highlighting specific sonic ranges. But some gaming headsets can be a little pricey, and some gamers may wonder if spending the money on a gaming headset is worth it compared to just using a pair of earbuds or headphones. every day. Here's an overview of what gaming headsets are, to help gamers decide if they even need a gaming headset.
What are gaming headsets used for?
The main appeal of gaming headsets is that they seamlessly combine both a microphone and a headset device into one easy-to-use package. Gamers who often play online games or want to record voice-over content for game-based clips and streams will need both a microphone and a headset to hear sounds and communicate clearly. . Although some gamers prefer to have their devices separated for better overall control and customization, having two separate pieces of hardware can be a bit of a hassle for the average gamer.
Gaming headsets make things much easier, especially when it comes to console gaming, where connecting multiple devices is a frustrating and confusing affair. Gamers who want to quickly connect and talk with their friends or other gamers via voice chat will appreciate how easy it is to plug in and play with a gaming headset. There are custom headsets for specific consoles or general-purpose gaming headsets that can connect to both console and PC using separate cables and adapters (which are usually included with the gaming headset itself).
RELATED: PS VR2 headset could use haptics for better surround sound
What makes gaming headsets different from regular headsets?
Gaming headsets aren't just combo devices, they offer specialized sound tuning that differentiates them from standard headphones. Traditional, over-ear, and over-ear headphones are designed for music, audio, and visual entertainment. For this reason, companies work hard to create drivers and companion software that allow users to fine-tune their listening experience. This includes options such as treble and bass adjustment, as well as access to a variety of different presets and equalizers to help create the ultimate listening experience, depending on several variables, focusing on things like musical genre and personal taste.
Gaming headsets typically don't focus on extra options and adjustable treble, as designers are more interested in giving gamers access to the myriad of sounds they may not hear in a game while using a headset. standard with music-based mixing. As a product, gaming headsets are typically tuned with heavier bass, along with ranges that emphasize things like enemy footsteps or other sound effects. They also focus heavily on surround sound, giving gamers the best possible experience to immerse themselves in any given game. While music can be an integral part of a gaming experience, it's far more likely that sound effects play an important role in making gamers feel like they're part of the action.
RELATED: These noise-canceling headphones from Dyson come with a built-in air purifier
This emphasis on surround sound can also help players who like to engage in competitive multiplayer or PvP, as it helps them hear their opponents more easily. That said, gaming headsets aren't without their flaws. Although in modern times there are many gaming headsets that are suitable for both games and music, they can be quite expensive. Gamers should expect to pay a higher premium if they want a gaming headset with a wealth of options available, similar to a music and sound based headset. Gaming headsets generally have poorer sound quality when it comes to "easy listening" and can be a bit abrasive for people who just use them to listen to music, TV, or audiobooks.
Do I need a gaming headset?
Gaming headsets are definitely worth it for gamers looking to get the most out of the games they play. Not only will gaming headsets help them compete better in multiplayer game modes, but they will also help them enjoy single-player experiences better by extracting additional sounds they may not hear with a traditional headset, amplifying better the action and immersion they feel.
Gaming headsets are also extremely useful in giving gamers easy access to a communication device, without requiring them to purchase additional products such as microphones and adapters just to voice chat with friends and other gamers. This is even more prevalent in console games, where players are often forced to respect connections and ports placed on various consoles or controllers. For console gamers in particular, a gaming headset can make all the differencebecause it gives them the opportunity to communicate with others without having to go through a multitude of additional steps.
Gaming headsets are a boon for gamers who enjoy a surround sound experience or want to game online. Those who may feel overwhelmed by the greater immersion or overload of extra sounds a gaming headset brings may want to stick more to traditional headphones and earbuds.
RELATED: Razer Headset Reportedly Saved Stray Bullet Gamer's Life
How much do gaming headsets cost?
Luckily, in the modern era, there are gaming headsets that should appeal to every budget. Those looking for a solid gaming headset that will work for PC or console can expect to pay between $50 and $75 for a mid-range headset from a reputable company.. Those who don't want to spend that much can search websites like Amazon, eBay, and Newegg for cheaper alternatives from lesser-known companies.
It's important to note that just because a company is less well-known and has a cheaper product doesn't mean it's a "bad gaming headset". In fact, there are plenty of affordable headsets that range between $20 and $40 that are more than enough for the average gamer. and will further dramatically enhance their gaming experience by providing superior comfort for extended listening times, as well as tuned drivers.
Those looking for something top of the line, capable of producing the best sound quality while simultaneously providing gamers additional tuning options via companion software and EQs should expect to pay close to $100 or more. Gaming headsets come in a multitude of shapes and sizes, with varying price points that should appeal to everyone.
MORE: Game Rant's Favorite Headsets of 2021