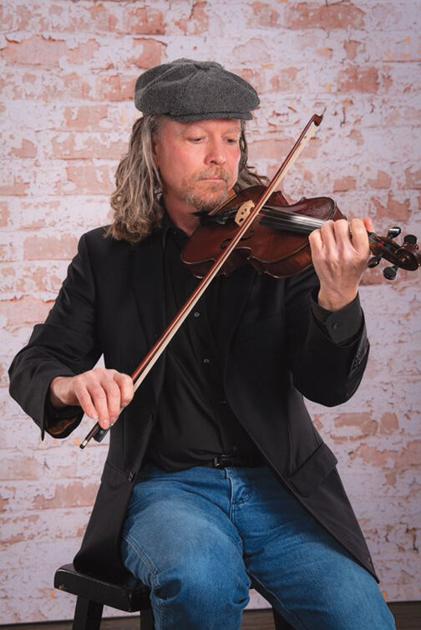 Preserving Heritage: Catlettsburg Violinist's Latest Honor Supports Musical Mission | New
CATLETTSBURG A local musician is racking up honors for himself and attention to his favorite style of music – traditional.
Catlettsburg resident Scott Miller, an instructor at Morehead State University's Kentucky Center for Traditional Music, is the recipient of the 2021 In These Mountains: Folk and Traditional Arts Master Artist Scholarship.
"To be selected from so many qualified applicants is a lesson in humility," Miller said. "In addition, being recommended by master artists, educators and state level art leaders is a great encouragement."
The winners were chosen on the basis of essays, recommendations, materials and samples of artistic work.
"The scholarship allows me to pursue my learning goal, which is to create a small project studio where I can record traditional musicians and other projects that will preserve and perpetuate the traditional music of our Big Sandy area and the Ohio Valley, "Miller said, noting that he planned to study with traditional music engineering expert Jim Wood of Tennessee Studios in Shelbyville, Tennessee, to learn more about the studio recording process, Miller's appropriate equipment, distance learning software, and specific techniques associated with recording traditional music.
"Traditional musicians usually don't have the budgets for long studio work and most professional sound engineers are often unfamiliar with the local community and the regional nuances of traditional music that impact how the music is mixed up, "Miller said.
Teresa Hollingsworth, Program Director at South Arts, emphasized the importance of what Miller and other Appalachian artists are doing.
"The artists we support through this program represent the deep history and culture of families and communities across centuries of practice," Hollingsworth said. "From white oak basketry to herbalism and old-fashioned fiddle storytelling, each embodies the work of their ancestors and proudly carries those traditions into the future."
Miller also runs the Appalachian School of Music, where he teaches guitar, violin, old-fashioned banjo, hammered dulcimer, mountain dulcimer, mandolin and baritone ukulele, as well as music theory. He is also director of music and worship at Christ Community Church in Huntington. He has performed on numerous recordings and has performed at the Grand Ole Opry, Opryland USA, Silver Dollar City and the Nashville Symphony.
Last year Miller received the SouthArts Cross-Borders Apprenticeship Fellowship, which paired him with master fiddler Bobby Taylor of St. Albans, W.Va., with whom he studied violin.
"Although I have known Bobby for over 30 years, it was the catalyst to take advantage of his vast skills, knowledge and mastery of the local violin," Miller said.
Even in high school, where Miller started playing guitar, he became interested in traditional old-tme and bluegrass music.
"The music and the musicians really resonated with me. It is also part of my cultural heritage of which I am very proud, "he said, adding that his father supported his interest. "At that point, my life changed forever. "
Bluegrass music became his passion and he eagerly sought instruction.
"In seventh grade, I played 'Wildwood Flower' in the school talent show, which I had heard from an older man who took me on a raccoon hunt," he remembers. "The following year, I teamed up with my cousin who plays the banjo and once again played in the school's talent show. However, this time the applause was much more intense and many slaps on the back from teachers and administrators.
"My cousin, Darryl, and I could only play four or five songs together, but we played them for two or three hours at a time," he said.
Miller, who has a music degree from Morehead State University, plays by ear and reads music, which he says is beneficial.
"Some traditional and country musicians read standard notation, while most don't. However, throughout history there have been those who also read and write the tunes they know, "he said. past. Being immersed in tradition allows you to interpret or play a tune written in style. I always tell my students that they need to do both. The more you know and the more skills you have, the harder you can work. "
(606) 326-2661 |