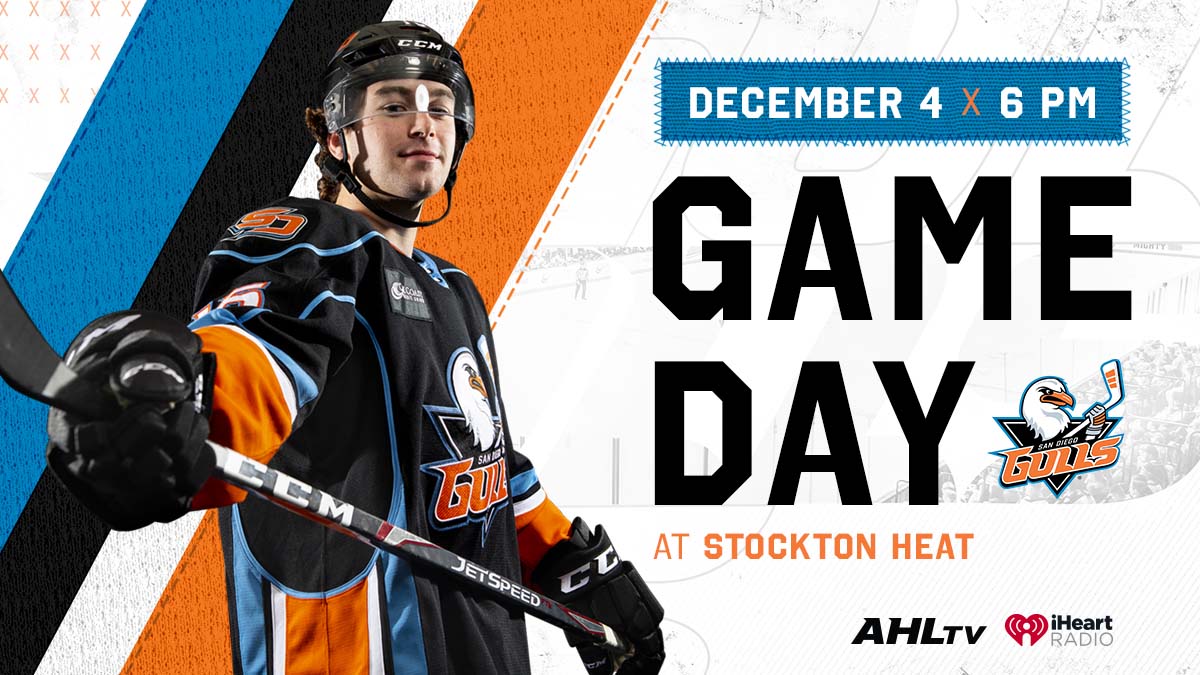 PREVIEW: San Diego seeks fresh start as they end back-to-back to Stockton
Dec 4 2021
By Paige Burnell / SanDiegoGulls.com
Sometimes all you need is a fresh start.
The San Diego Gulls are aiming for just that as they take on the Stockton Heat tonight (6 p.m. PT; TV: AHL TV; RADIO: Gulls Audio Network). The team lost the first game of this straight series, following their 4-1 loss to the club last night, ending their five-game winning streak in San Diego.
The Gulls are now 0-2-0-0 against the Heat this season and are 19-23-4-3 (8-14-2-2 on the road) overall against the club.
"Well, I liked the start," Gulls head coach Joel Bouchard said after the game. "I thought we were just on the right track with what we want to do against a very good team. Realistically, with a very young formation on the road, I feel that adversity has touched us and we have collapsed a bit. We showed our youth and our, in a way, emotion. What is expected a bit in the process of growing. So, I am not surprised about this. I'm not even angry or disappointed. Guys, I think, are just part of growing up to be a hockey player and learning to compete with other teams when they raise the stakes.
The Gulls will look to replicate their excellent first period, where they only allowed Stockton one shot, setting a new team record for the fewest shots allowed in the first period. Despite seeing the Heat score on their only shot, San Diego wants to replicate the effort tonight.
"We came out, we played a great first half," said Danny O'Regan. "We kept it simple, drove the pucks deep and were really good in the d zone. The Ds were doing a good job getting out the pucks, beating their front failure. A shot on goal against a very good team was a very good start for us.
The game's brightest sports for the Gulls were the penalty kill as San Diego managed to thwart Stockton's top 10-ranked power play on five of his six chances, with three of those attacks coming in the game. 7:14 space in the second period. In the last six games, the Gulls have killed 24 of 28 power games for an 85.7% success rate.
The Gulls have also featured on the other end of their special teams as O'Regan scored a power play goal despite Stockton's shorthanded penalty tied for second in the AHL with a score of 87.1% eliminations.
"They did a good job, it was a high pressure team and that some pucks were bouncing a little bit," said O'Regan. "Guys were, if you hold it for a second longer, these guys are right on you. So we have to regroup, do a better job of just getting rid of it and talking a little more on the ice, supporting each other and putting pucks in the net will be important for us. "
O'Regan is playing a major role in the success of the Gulls' power play, which ranks third in the AHL at 23.4%.
Defensemen Brogan Rafferty and Nikolas Brouillard both assisted on what would be the Gulls' only goal. Brouillard has collected points in nine of his last 11 games (3-10 = 13) and has led AHL defenders in assists (10) and points (13) since November 1.
Still, the Gulls want more production from their power play as they were only able to capitalize on one of nine chances last night and the team know it's a challenge to pass Stockton goalie Dustin Wolf.
"It didn't work for us," said Bouchard. "I think it affected us that we weren't as free as we wanted. The ice wasn't very good, so it's not power play ice. Which is no excuse, but I think we've just shown our young people that they can't find solutions to problems. Or not finding solutions to counter that perhaps correspond to their maturity and their ability to manage a domain.
Wolf is second in the AHL with a .934 save percentage (SV%) and his 2.07 goals-against average (GAA) is third.
San Diego will also need to watch out for former Gull Andy Welinksi, who leads a five-game assists streak (0-6 = 6), and Connor Mackey, who led all skaters with 2-1 = 3. points in yesterday's victory.
In search of this new beginning, Bouchard once again challenges his team to reach new heights.
"They have to grow up," he said. "They have to learn. As much as we would like to think they can learn in a video room or learn in a school, there is no college hockey. You have to be on the ice and you have to feel it and you have to. to grow. "