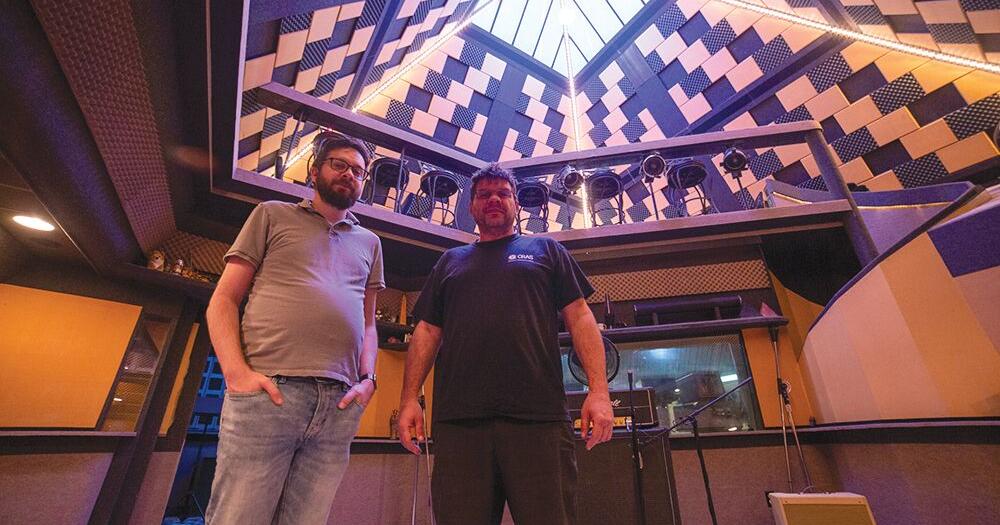 Pyramix Studios brings energy to its recordings | Company
James Maras had a vision. More than 20 years ago, he wanted to build a studio near his Glendale home so he could record his music.
In 2000, Pyramix Studios was born. With the tip of the pyramid protruding from its side yard, the full-service recording studio is located mostly underground in a private, secluded, gated courtyard.
"I describe it as a hobby that got out of control," James said.
"I've been a musician my entire adult life – but I had a real job to support my habit. It started with mixing sound with my own bands, then live sound for other bands, live recording, then home recording. This all evolved into a secluded one acre plot with a recording studio, workshop and mancave complex, separate from the house, from about 25 years ago, which I designed and built during my "spare time" as a so-called "retirement" gift to myself."
The pyramid design allows for flexible use of interior space, acoustics, structural integrity, and esoteric properties (energy fields).
"But the main reason was that it's just flippin' cool," James said. "Great attention was given to proper proportions and alignment (as in the Great Pyramid) to enhance its performance. The Pyramid was built to be a recording studio, so all interior treatments were designed to this end while maintaining the family atmosphere. OK, there is a bit of neon, so it's like a club too.
James joked that although Pyramix Studios started out as a private studio and party venue, due to "increasing peer pressure" they decided to offer it to the public.
"We created a website and came out of hiding," he said. "We are now a full service studio with highly trained in-house staff, very high quality gear and the latest digital toys for recording, editing, mixing and mastering. We have a very extensive range of mics, preamps, amps, guitars, keyboards, drums and other accessories to facilitate our work.The studio is also available for independent engineers and producers for their own projects.We also provide rehearsal space for the band and a venue for events specials, such as launch parties and video shoots."
The studio is powered by a digital recording workstation, including Pro Tools Ultimate with HDX and a suite of plugins.
It has external equipment such as API, SSL, Neve and Universal Audio ready to be patched.
At Pyramix Studios, artists come first, not egos. Chief engineer Duane Woods said he insists to customers that he is working for them, not the other way around.
"If they want to do another take, I tell them they don't need to apologize," Woods said. "They pay me by the hour to be there. I empower clients and let them dictate where they want to go.
"I also insist on this point for our trainees. When I was in engineering school in 1999, the image that was painted to me was that of the chef in the kitchen yelling at the staff, that cantankerous old sound engineer who fit the mould. I didn't like this idea. This culture stops at the door.
Pyramix Studios also offers a warm environment with indoor and outdoor lounges for creative collaboration or rest. Lighting controls and personal headphone mixes provide artists with an ideal environment for their performances.
Woods said Pyramix Studios caters to all genres, appealing to a variety of artists ranging from rapper Peoria Dbait to rock band Color of Chaos.
"The cool thing about being in a recording studio is that we can record anything," said technical specialist Adam Maras.
"Besides music, we have recorded spoken word (performances), audio books, voiceovers for commercials. We streamed podcasts live from here. It was also a good experience.
"It's generally a good piece for musicians, if I don't say so myself. We aimed for this versatility.
Among his recent projects is a collaboration with local artists, including the Phoenix Children's Chorus, who donated their time and talent to produce recordings of 11 classic Christmas songs.
Once these songs are mixed and mastered, they will be submitted to a vinyl pressing service to create a limited set of records. These albums will be donated to Phoenix Children's Hospital, which will sell them directly and with the help of distribution partners.
"It was an incredible feeling," Woods said.
Those wishing to donate to the cause can visit pyramixstudios.com/
christmas-album-2022.
Color of Chaos recorded "Happy Xmas (War is Over)" for the project, according to lead guitarist Steve Favela of North Phoenix. The act also recorded their first full-length album, "Hollywood," at Pyramix Studios.
"From the start they were so welcoming," Favela said. "They were so grateful. We had such a good relationship with them. The album came out very well. »
Former East Valley singer-songwriter Jim Bachmann, who now lives in Tulsa, Oklahoma, said he relied on Woods to produce his quality sound.
"Duane is so cool," Bachmann said. "He's easy to work with and brings out your creativity. He is not afraid to suggest things if he feels the need. It's like hanging out with a friend in the living room jamming.
Pyramid Studios
602-36-AUDIO
602-362-8346
pyramixstudios.com