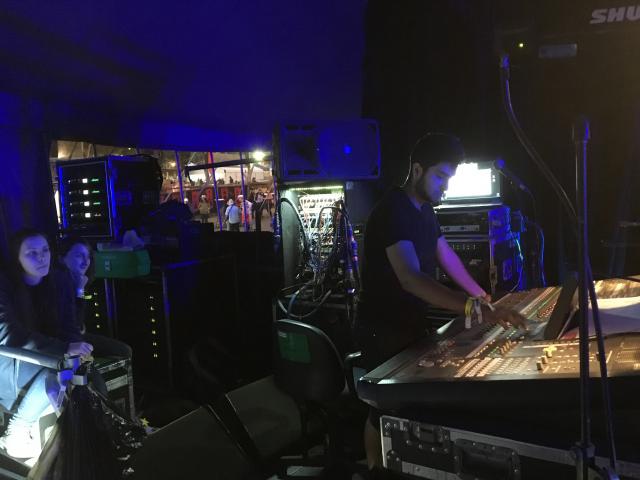 Rally roadies do student sound check
The Gympie Music Muster is once again strengthening its community involvement this year, providing young students with the opportunity to gain hands-on educational experiences.
The Muster welcomes Year 11 and Year 12 Tourism students from James Nash State High School Certificate III and Music Diploma – Sound Production TAFE Queensland students from Brisbane, who will gain experience in hospitality, service and live music production.
After eight years of studying the Muster as a tourist event, this will be the first year that James Nash State High School students will work behind the scenes at the Muster, the experience being invaluable to their studies.
"A new skill we added this year is protocol requirements, and it specifically lists musical artists as people to work with," said Karen Swift, business and technology department manager at James Nash State High. School.
"There's no better opportunity for our local students to gain first-hand work experience in the tourism industry than by working in Artist Services at The Muster."
Students are excited to apply their skills in a real-life situation, with their teacher supporting them throughout the experience.
"The real value of this experience is the opportunity to step up and show off their skills beyond classroom walls and schedules," Ms. Swift said.
Also gaining hands-on experience at the Muster, is a TAFE Queensland Brisbane (Southbank) sound production class – this relationship with the Gympie Music Muster dates back 25 years and as part of its support for the community, the Muster also helps provide accommodation and meals. to students.
A dozen students will work alongside experienced sound and lighting engineers on the Muster stages, gaining invaluable hands-on experience.
"Former teacher Ian Taylor started the program in 1996 to offer students the opportunity to work alongside industry audio professionals by gaining insight into how large-scale festivals work, as well as a understanding of how audio systems are managed from small to large concert stages," said Professor Heath Storrie.
Students camp on site and are involved in setting up audio, lighting, vision and backline before the Muster, helping with microphone setup, patching, artist changes and backline and gain invaluable insight into live mixing practices during the festival, and help bump-out.
"By participating in all of these aspects, students get a very realistic, hands-on experience of the event production industry," Storrie said.
He said students gain invaluable networking and employment contacts, with some members of the current professional work crew and even tour crew having graduated from this course. in past years.
Mr. Storrie, himself, completed the course in 1999 and worked as a member of the audio production team on and off from 2011.
The Gympie Music Muster will take place the weekend of August 25-28 in Amamoor Creek State Forest and is supported by Gympie Regional Council and the Queensland Government through Tourism and Events Queensland and is a feature on It's Live! in the Queensland Events Calendar.