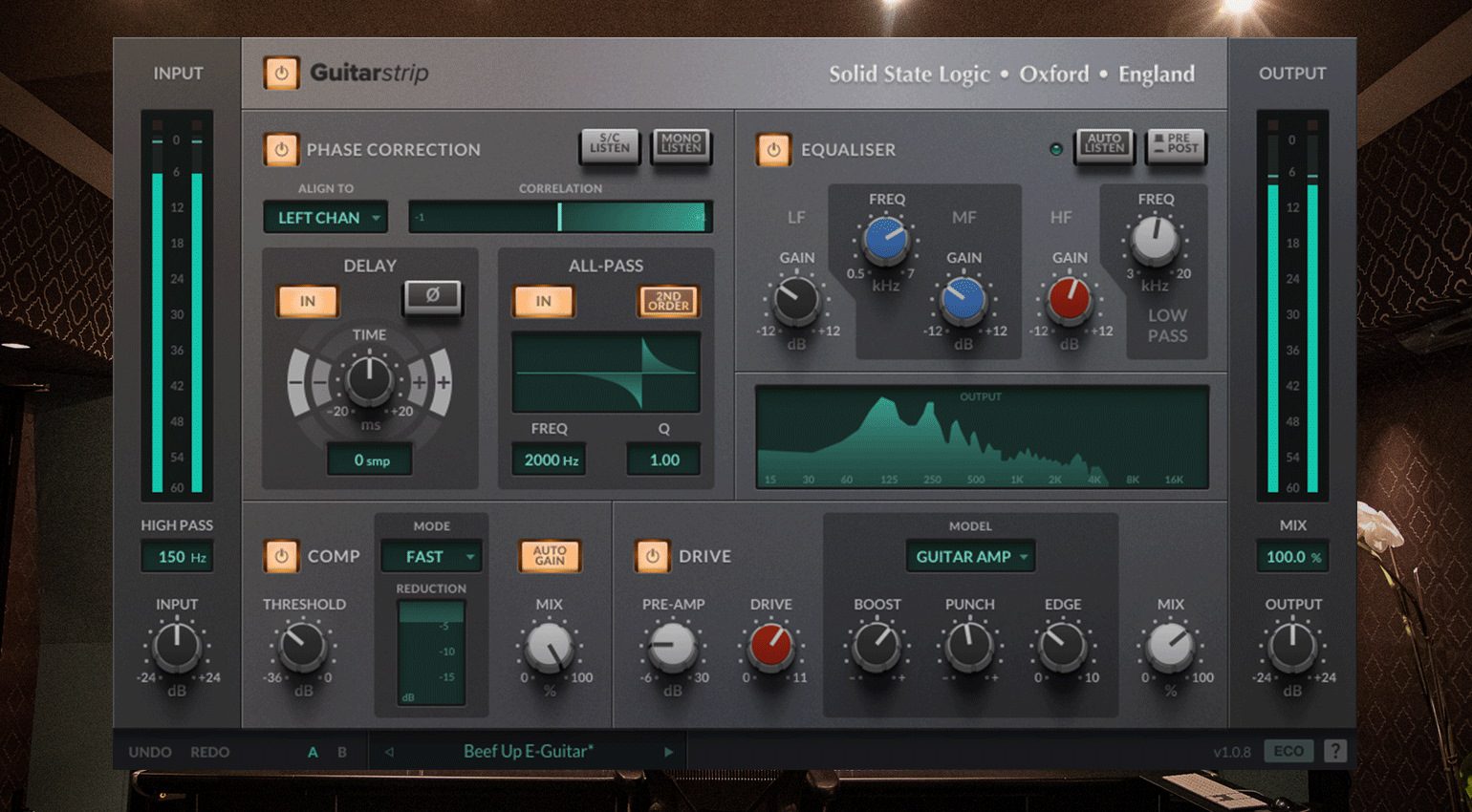 SSL Guitarstrip: polish your guitar tracks with SSL
Solid State Logic has released a new plug-in called SSL Guitarstrip. Guitarstrip offers 4 processing modules for acoustic, electric and bass guitar. They offer tonal shaping, dynamics and phase correction functions. Learn more about SSL's latest software channel strip…
SSL Guitarstrip guitar processing plug-in
SSL's new Guitarstrip plug-in provides control of tonal shaping, dynamics, and phase correction specifically tailored to guitar tracks. It contains 4 processing modules designed to let you get the most out of acoustic, electric and bass guitars. As expected, Guitarstrip benefits from SSL's decades of experience in producing exemplary recording equipment tuned by the most discerning ears.
The plug-in will also keep good company with SSL's existing Drumstrip and Vocalstrip 2 plug-ins. The more "get-mix-ready-sounds" plug-ins it produces, the more software and subscriptions SSL can sell. So I expect Oxofird to continue in this direction (and others) in further software development.
Interestingly, Guitarstrip also offers several emulations of classic tube amplifiers in addition to the typical SSL console EQ and dynamics processing. Phase correction is also an important, but overlooked, aspect of processing multi-mic recordings. Overall, Guitarstrip should be able to prove itself as a useful tool in recording and mixing scenarios.
In terms of tweaking potential, don't expect to go far, though. The Drive module contains Boost, Punch, Edge and Shape controls which make it an interesting standalone distortion and saturation module. The Compressor module contains 5 compressor presets with Auto-Gain function and parallel compression options. The EQ is a simplified 3-band channel EQ for wide tonal shaping.
Overall, I like when SSL stays user-friendly and offers lightweight and efficient troubleshooting plugins. However, its pricing strategy is based on two things – first, SSL is a premium professional audio brand. Second, it wants to sell subscriptions more than individual plugins. Times are tough, so choose your subscriptions carefully – there's sure to be a lot lurking these days!
Price and availability
​With the SSL Complete subscription, which starts at $15 per month, Guitarstrip is also available in standalone for $199 – both from SSL eStore and resellers. The lack of an introductory price is surprising, but that's what it is. You can buy SSL Guitarstrip from our affiliate partner Thomann*:
The plugin is available in 64-bit AU, VST2, VST3 and native AAX formats for macOS Catalina (including Apple Silicon) and Windows 10 or later. A demo version can be downloaded and authorization is managed via iLok (free account or paid USB dongle).
Learn more about SSL Guitarstrip