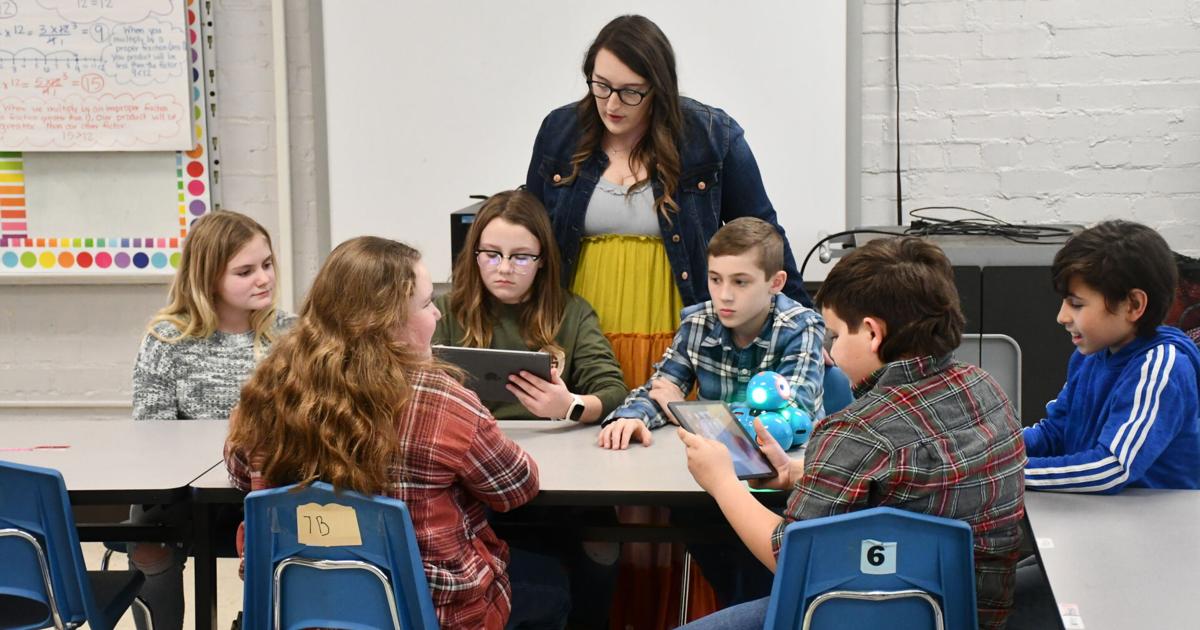 Watch now: Coding Corner opens at Bluff City Elementary School | Education
BLUFF CITY – Computer coding and robotic learning are alive and well in Ashley Rhea's fifth grade classroom at Bluff City Elementary School.
And it was thanks to a $5,000 TVA grant that she won this year.
Thursday marked the first time the Coding Corner in Rhea's classroom was stocked and used.
TVA President Jeff Lyash, Bristol Tennessee Essential Services (BTES) CEO Mike Browder, and TVA Johnson City Area Customer Service Engineer Scott Houlsee presented the traditional "giant check" to Rhea, at the director Hank Hare and assistant director Leigh Anne Rasnake on Thursday afternoon.
In addition to distributing electricity from TVA, short for Tennessee Valley Authority, BTES also provides internet, telephone and television in its service area.
Afterwards, six students presented the six Dash robots controlled by six iPads to visitors and the media. Six other Bee-Bots, aimed at young students, some Blue-Bots and controllers were also purchased with the grant funds.
"Some of our engineers at TVA use robots like you use here," Lyash told six students: Axl Lowe, Jayleigh Barrett, Grady Burke, Leeann Phelps, Mason Ambrose and Emily Kelley. "That's pretty cool."
Emily said students at Rhea, a science and math teacher and sophomore graduate of East Tennessee State University teaching in Bluff City, have already discussed how robots and controllers can be used in academic subjects outside of computer coding, including reading and social students. .
Rhea said she was one of the first 12 ETSU students in the iSLICEE or Integrating Stem and Literacy with Computation in Elementary Education program, making her an iSLICEE scholar a few years ago.
Rhea said the students were using the robots and iPad controllers for the first time on Thursday, which Lyash said impressed him because of their mastery of the controls. However, soon after, one of the Dash robots fell off a table onto the hard floor. He survived with no apparent damage, and Houslee said he saw the robots get pounded without missing a beat.
"Maybe we need to pad the floor. What do you think?" Lyash asked the six students to demonstrate the coding equipment.
Jaleigh was among the students who used the robots for visitors, and Axl said in response to a question from Lyash that his favorite thing about the robots was controlling their voice and movement. In addition to making the robots talk, students could also make them sound like cows or other animals.
"I want to be a dental hygienist," Emily told Lyash when asked about her future plans, and Lyash replied that the technology would be even more advanced by the time she became one.
Lyash said he remembers his fifth-grade teacher Mr. Hummel well.
"I hope they remember me," Rhea replied.
The students indicated they would and were always with her, handling the bots with coding after the visitors left.
Mike Browder, 80, is retiring at the end of the year as head of Bristol Tennessee Essential Services, where he has worked since 1972 and has run since 1977. In addition to distributing electricity from TVA, short for Tennessee Valley Authority, also provides Internet, telephone and television in its service area. He holds a doctorate in educational leadership and policy analysis from East Tennessee State University, a master's degree in administrative science from the University of Alabama Huntsville, and a bachelor's degree in electrical engineering from the University from Auburn. He is a registered professional engineer in Tennessee and Alabama.