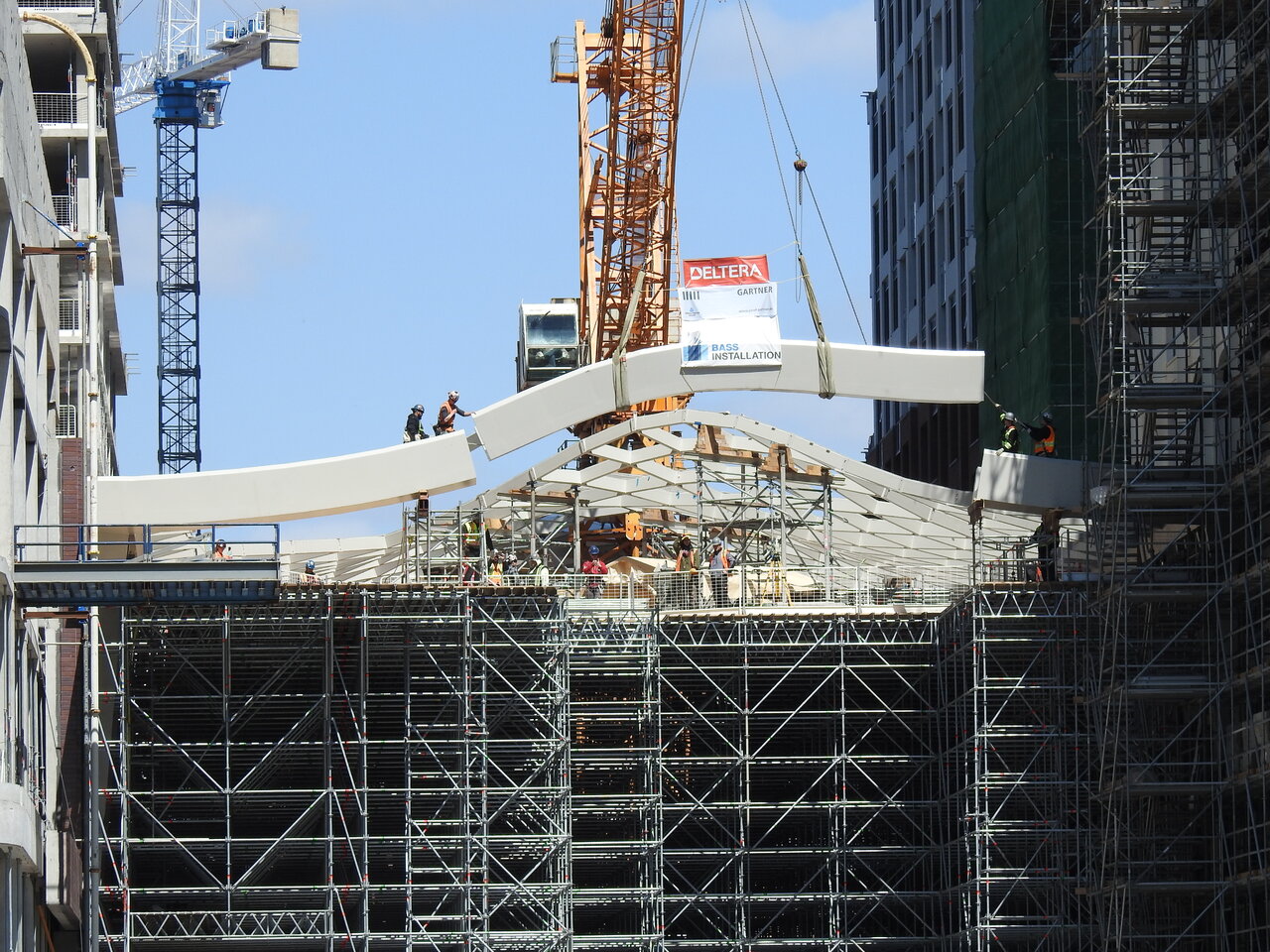 Well sees final awning pieces installed at Sound End
As construction continues on several of The Well's buildings at its Front Street and Spadina Avenue site in downtown Toronto, so does work on many of its common elements. All of The Well's buildings will eventually be brought together around a BDP-designed multi-level retail gallery that sweeps across the center of the site, sheltered by a 35,000-square-foot glazed canopy designed by Gartner, part of the Permasteelisa group of Germany. Recently, the southern part of the canopy elevation has been capped, with the last pieces of steel being fixed in place before the last glass skylight tiles begin to be installed.
Installing the canopy end cap, image by UT forum contributor Red Mars
Originally assembled at the production facility in Gundelfingen, Germany, to ensure that all of its custom parts fit perfectly, the canopy was disassembled and transported here to be reassembled. For the final section, a centrally located crane hoisted the metal pieces, while crew members were positioned in secure sections of the canopy gutters and atop the scaffolding below, guiding the final piece gutter in place by means of clips that were attached to either side of it.
Crew members pull the hood with ties, image by UT Red Mars forum contributor
Once the final pieces are in place, the remaining glass panes – there are almost 2,000 – can be fitted, after which scaffolding under the canopy to help with installations can also be removed.
Last piece put in place before tiles are installed, image by UT forum contributor Red Mars
When completed, the covered area will be lined with various retail, entertainment, service and dining venues. A north-south section of the gallery is shown in the rendering below.
Looking north through the completed gallery of The Well, image courtesy of RioCan, Allied REIT
More development information will be coming soon, but in the meantime you can find out more from our database file for the project, linked below. If you wish, you can join the conversation in the associated project forum thread or leave a comment in the space provided on this page.
* * *
UrbanToronto's new data research service, UrbanToronto Pro, offers comprehensive information on construction projects in the Greater Toronto Area, from proposal through completion stages. Plus, our subscription newsletter, New Development Insider, drops in your mailbox daily to help you keep track of projects through the planning process.
| | |
| --- | --- |
| Related companies: | Adamson Associates Architects, Allied Properties REIT, ANTAMEX, architectes—Alliance, BVGlazing Systems, Claude Cormier + Associés, Diamond Corp, Doka Canada Ltd./Ltee, EQ Building Performance Inc., Figure3, Hariri Pontarini Architects, II BY IV DESIGN, Jablonsky , Ast and Partners, Knightsbridge, Kramer Design Associates Limited, Live Patrol Inc., LiveRoof Ontario Inc, LRI Engineering Inc., Ontario Panelization, Peter McCann Architectural Models Inc., Precise ParkLink, Rebar Enterprises Inc, RioCan REIT, RJC Engineers, RWDI Consulting Engineers and Scientists, The Mitchell Partnership Inc., Tridel, Trillium Architectural Products, Unilux HVAC Industries Inc., Urban Strategies Inc., VDF Vertical, Vortex Fire Consulting Inc. |