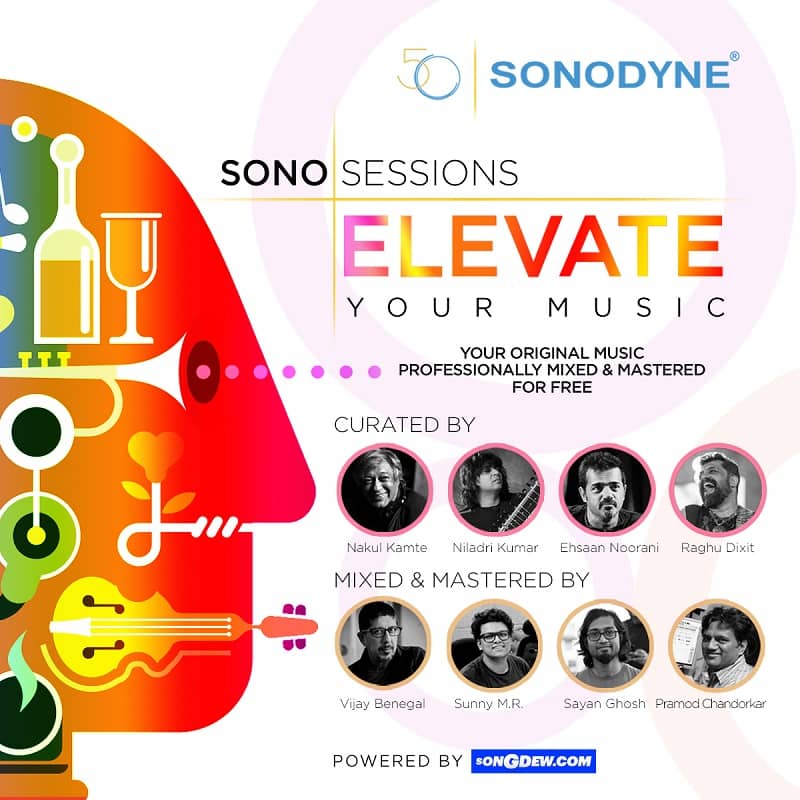 With Elevate, Sonodyne wants to push the songwriter in you
Among the sectors affected by the Covid-19 pandemic, the music industry has a special place since it has been completely pulverized. Live shows have come to a screeching halt, reducing performers' incomes to near zero levels.
Such a depressing atmosphere is naturally very demotivating for aspiring artists. What is needed now is pushing in the right direction, like an energy booster. This is where the audio equipment company, Sonodyne of Calcutta, comes in with an initiative called "Elevate", in which it will produce 10 songs by independent artists and have them professionally mixed and mastered.
"It's a time of distress for the music community. Musicians no longer make money from recorded music because the streaming returns are pathetic. Income comes from studio sessions and concerts, which have come to a complete halt. Until the end of the year, there seems to be no hope, "says Anindya Mukherjee, director of Sonodyne, a household name among music lovers at a time when listening to records and tapes on high-fidelity systems was the key. only way to enjoy the songs.
Deeply moved to see musicians selling instruments amid a deep depression and even suicides, the company decided to step in and help the independent music community. "It's about keeping musicians' spirits alive and inspiring them to do more. The musicians who participate will also have the opportunity to be heard by esteemed people and to have a piece produced, "he continues.
Elevate has an open call for song submission until June 28, 2021, which will then be sent to an esteemed jury of four judges, including Nakul Kamte, Ehsaan Noorani, Raghu Dixit and Niladri Kumar. The selected tracks will be polished by the country's top sound engineers – Vijay Benegal, Sunny MR, Sayan Ghosh and Pramod Chandorkar – who will work with the artists to give the songs the best possible shape.
"Above all, I'm looking for good songwriting and also decent production, because if the recording isn't clear there isn't much that even engineers can do to save it," Ehsaan explains. Noorani. "This initiative aims to improve the quality of the music produced. "
The initiative comes at a time when the influx of technology has changed the way the industry works. Artists choose to do everything themselves now – from songwriting and mixing, mastering to marketing. Additionally, production can be done at home with some knowledge of sound engineering. But this does not always give good results because mixing and mastering are a profession which requires the contact of qualified professionals.
"It takes a lot of investment to fully produce and promote a song. This opportunity will not only ensure good audio production for the song, but will also be a chance to learn from these learned people, "said Itanagar-based singer-songwriter Takar Nabam.
As he searches for an opportunity to connect, Calcutta-based artist Sourjyo Sinha from Whale in the Pond finds this as an outlet for his compositions to emerge. "The pandemic and the ensuing lockdown are seriously demotivating. It's a way for me to send my idea for a song and not have to worry about mixing and mastering, "he says.
For Zeeshan Nabi, guitarist of the Kashmiri group Ramooz, it is an outlet to find recognition in a wider world. "Artists linked to a label always have some support, but independent artists don't. It is very difficult to break into the industry on your own. We make music to express ourselves, and if the possibilities to do so continue to diminish, how are we supposed to survive? "
It is a thought that many artists across India, for whom this initiative is open, will relate. Getting the word out in an industry where you have to compete for the attention of genuinely distracted people is a daunting task. But Elevate (http://sonodyne.com/elevate) may well give those selected an edge.
The best part is that Sonodyne will let the artist decide what to do with the track once it has been completely mixed and mastered. Although it has partnered with the music distribution platform Songdew, which can stream these songs with a professional twist, an artist can also choose to play solo.
In short, this is a complete package for those who think they have talent and are ready to go through an exhausting selection process. The only catch: your song must be original.