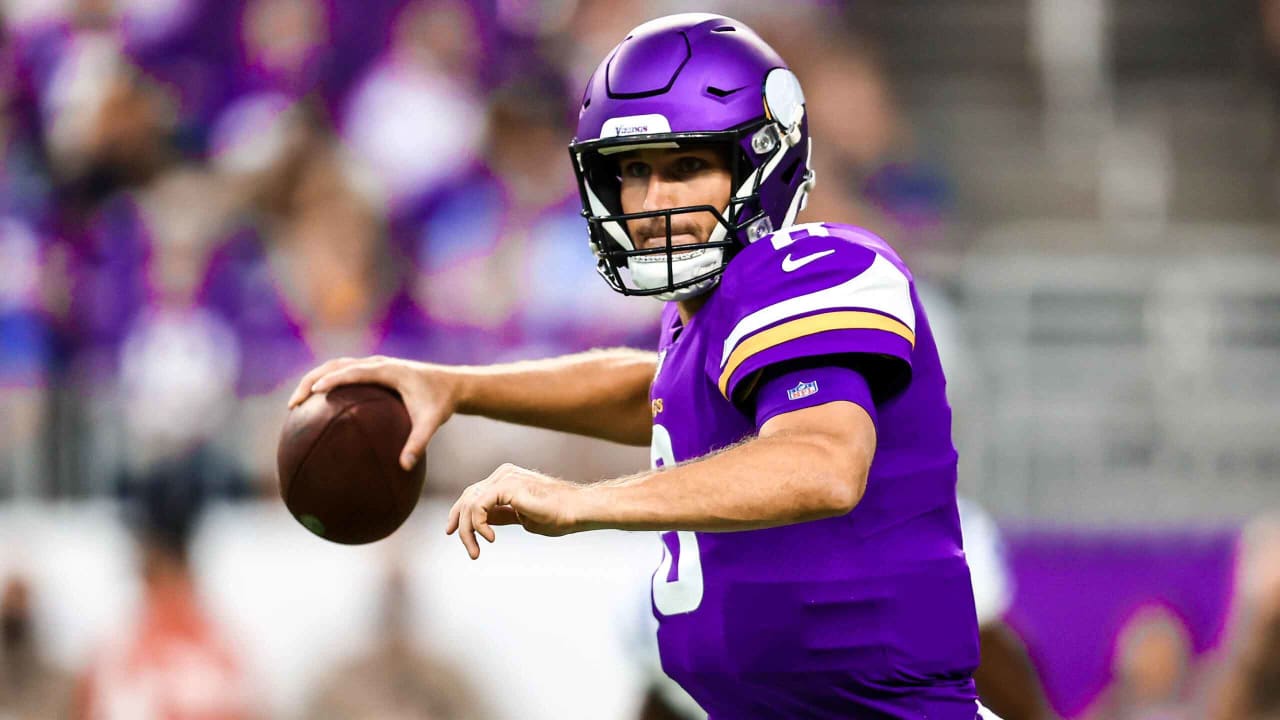 Zimmer says Vikings offense 'ongoing' after Colts preseason loss
MINNEAPOLIS – The Vikings are still looking for their first offensive touchdown of the preseason.
There was good and bad in Minnesota's offense on Saturday night, but Vikings head coach Mike Zimmer said the unit ultimately struggled to find a rhythm in a 12-10 loss to the Colts*. *
"It's still a work in progress. I think we had six first tries at the end of the third quarter when I looked up there," Zimmer told members of the media after the game. "We were [2-for-13] in the third practice, so we don't really have a lot of pace there.
"We have to do a lot better in this area," Zimmer added.
The Vikings played their first string offense for a quarter and a half after sitting 31 starters against the Broncos last week.
Kirk Cousins ​​ended his night of three series with a less than flashy stat line: 5 of 7 passes for 23 yards and a passer rating of 75.3. Cousins ​​was sacked once for an 8 loss. He was eliminated by rookie defensive end Kwity Paye, a Michigan first-round pick.
After not playing last week against Denver, Cousins ​​appreciated the opportunity to "get rid of the rust" and regain the feel of a game day.
"That's what you're here for, so it's fun to go out and play," Cousins ​​said.
He said the sluggishness of the offensive exit couldn't be attributed to just one thing, but admitted there wasn't a lot of rattling in the passing game.
"The first time we had this third and short we started the tilt inside Adam [Thielen], didn't connect, and you have to take a punt, "said Cousins." The second time around we completed a third down and we were maybe within half a yard. It's just a thumbs-up. "
Cousins ​​complimented the Viking racing game from the start.
Ameer Abdullah led the team with six carries for 35 yards (5.8 average), and fullback CJ Ham added a rush in the first quarter for nine yards. AJ Rose recorded six carries for 10 yards in the second period.
"O-line did a great job. Ameer did a great job with football, as did CJ," Cousins ​​said.
The first-team offense recorded three first tries on the playoff line. Long story short? It's not going to fly in the regular season.
"You know, not enough consistency," Zimmer said. "We have to make more plays than we did. It seemed like a lot of times, and maybe not just with the first team, we had penalties or mistakes that put us in bad situations. we're going to have to eliminate them. "
Looking ahead to Minnesota's third and final preseason game on Friday, Zimmer expects offensive starters – at least some of them – to end up playing in Kansas City.
"I would expect to play. If we had a great night out tonight, I would still expect to play in Kansas City, or I wanted to play. You know, the noise of the crowds, being on the road "Cousins ​​said in response. "I would expect to play and try to get something done."
The Vikings did not face second-year wide receiver Justin Jefferson on Saturday, and Thielen left the game after being touched in Minnesota's fifth game of the night. Zimmer told media that Thielen "had a knee to the thigh" and suffered a bruise, escaping a serious injury.
But since the starting pair of receivers did not contribute, the Vikings did not pass to the receiver until the end of the second quarter.
Quarterback Jake Browning hooked up with Chad Beebe twice in the final two minutes of the first half, moving the chains 15 and 32 yards, respectively. Beebe finished as Minnesota's main receiver with both catches for 47 yards, followed by KJ Osborn with two catches for 27.
Rookie receivers Myron Mitchell and Whop Philyor recorded catches of 22 and 19 yards, respectively, from quarterback Kellen Mond, with Philyor's catch coming on the last play of the game.
Browning and Mond both had their share of struggles in their second preseason game.